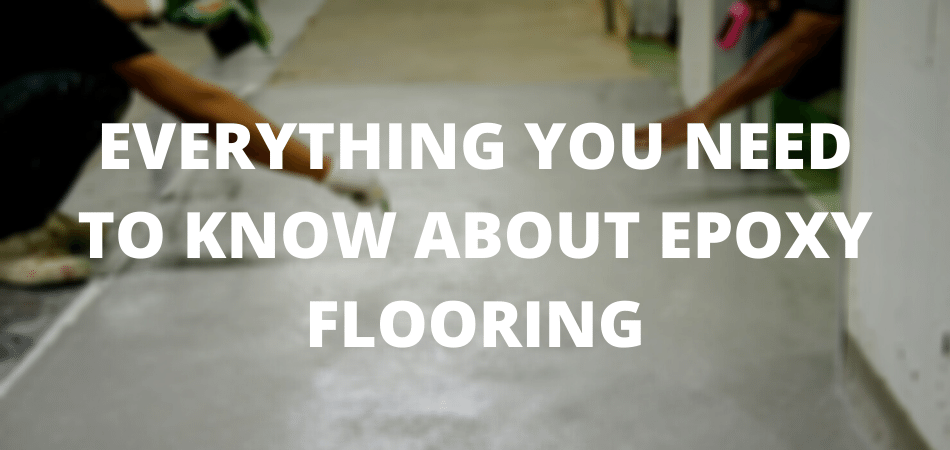 Before installing Epoxy flooring in your residential or commercial space, you must know about it, Here is a complete guide of Epoxy flooring, just stay tuned with us, and you will get all the required information.
Today's Epoxy is in high demand all over the world because the material which is used makes it a unique solution. Many factors are responsible for their use in different types of applications. Epoxy is a flexible and practical mixture of materials, that's why it is most usable in flooring. In the below content, you will get everything that you need to know about Epoxy.
Epoxy Flooring For Homes
If you are not familiar with Epoxy, then here are a few essential points that are enough to describe everything about it.
What is Epoxy Flooring?
Epoxy Flooring is a process, which is done by using Epoxy floor coating. Epoxy is well-suited for flooring because you can use it for any space, whether it is for residential, industrial, or commercial. It has become the first choice of homeowners in terms of flooring because of its multiple features such as; smoothness, durability, high performance, and resist heavy loads on the floor surface.
Another definition of Epoxy is; On your floor surface, around 2-millimetre Epoxy layers are, which is called Epoxy Flooring.
What are the types of Epoxy Flooring, and where you should apply the Epoxy Flooring?
1. Self-Leveling Epoxy Floors
Self-Leveling Epoxy is generally used to cover the damaged, old, and cracked concrete floors. The most advantageous factor about this flooring is; it does not only give your floor a shiny look but also appeal to your residential and commercial space because it is available in different colors.
Where you can use Self-Leveling Epoxy Flooring – Self-Leveling Epoxy flooring is most beneficial for commercial, kitchen, warehouse, garage, athletic facilities, etc.
2. Mortar Epoxy Floors
Mortar Epoxy flooring is made up of graded sand and solid epoxies, and also it is the most stringent Epoxy system. To deal with the high impact, it is most beneficial because it has high chemical resistance. This type of flooring is generally installed before installing a different kind of flooring because it is best for removing cracks.
Where you can use Mortar Epoxy Flooring –
Mortar Epoxy Floors are efficient for kitchen, mechanical houses, garage, manufacturing plants, and restaurants.
3. Quartz-Filled Epoxy Floors
Quartz-Filled Epoxy Floors are most commonly required for decorative spaces, which have slip resistance property. This flooring has to be done by using two substances; stain quartz grain and epoxy polymer resin; that is the reason it is suitable for those floors which need to be sanitized highly.
Where you can use Quartz-Filled Epoxy Flooring – Quartz-Filled Epoxy Floor is one of the best options for schools, colleges, offices, lobbies, showrooms, cafeterias, and restrooms.
4. Anti-Static Epoxy Floors
Anti-Static Epoxy flooring is also known as Electrostatic charge resistant flooring or ESD flooring. This flooring is highly suitable for those spaces which are required to reduce static hazards in your space. This floor holds a conductive compound, for spaces that contain flammable material.
Where you can use Anti-Static Flooring – Anti-Static Epoxy Flooring is generally required for health, pharmaceutical, electronic, chemical manufacturing facilities, and for those places where the risk of combustible dust buildup.
5. Epoxy Flake Floors
An epoxy floor is available in many different sizes, textures, colors, and customization spaces. This flooring type is made up of colored flake material; that's' why it would be able to provide a seamless look and provide a subtle groove to minimize falls and slips.
Where you can use Epoxy Flake Flooring – Epoxy Flake flooring is highly used in; commercial space, locker rooms, clinics, showroom, and sports venues.
What is Epoxy Floor Coating?
The process through which Epoxy is created is called Epoxy floor coating. Epoxy is a substance that is used in Epoxy Floor coating. It is composed of two-component materials one is; epoxy resin and other is poly-amine hardener. Epoxy floor coating is generally thick, less than two millimetres. 
Many users seem confused about Epoxy and Epoxy floor coating; both are different things. Epoxy floor coating is less than 2 millimetres; on the other hand, Epoxy is around 2 millimetres. 
5 Most essential things that you need to know: Epoxy Flooring
If you are not familiar with the top 5 unknown facts about Epoxy, then here are these five things that are defined, you should know about that.
1. Epoxy strength comes from its chemical bond
As we know, Epoxy floor coating is made up of two particles; curative and resin. Both particles mix with each other immediately and strongly cause both to have a solid chemical bond. So, the Epoxy becomes a stronger cause of the sum of its particles and won't chip or peel away from the flooring surface.
2. Epoxy is combined easily with other products
Epoxy has a strong quality to bond with other products so that you can add a non slip layer with embedded quartz very quickly. The most durable and commercial surface of Epoxy is; Urethane top coat seal of Epoxy.
3. Flexible grade Epoxy is much stronger
When someone hears the word flexible Epoxy, he thinks it is less strong, but it is opposite from, as its name indicates. It is much stronger than rigid counterparts. In terms of abrasion resistance, it is highly stronger than any other type of flooring.
4. Epoxy is stunning
Whenever you hear about industrial floor coating, not so good looking pictures scroll in your mind, but Epoxy offers you more stunning flooring. Infect, it provides more stunning, colors, textures, and a variety of shades flooring. These different colors and texture of Epoxy light-up your facility.
5. Epoxy is easy to apply on the hard flooring surface
Generally,  Epoxy  is associated with concrete floors, but it is also used for wood and metal sub-flooring to provide a protective layer and hard surface. But remember that when you apply Epoxy to the flooring, you need to be careful and ensure that Epoxy is appropriately bonded with the floors.
Pros and Cons of Epoxy Flooring
If you want to know everything about Epoxy, then you must be aware of all the advantages and disadvantages of Epoxy flooring.
Pros of Epoxy
All you need to know about Epoxy flooring's benefits will help you understand, "why you should use Epoxy?" The top advantages of Epoxy are listed below.
1. Durability
Epoxy is highly durable for the potential intensive process, high traffic space, and heavy lifting process because of epoxy flooring's strong chemical bond.
2. Affordability
Epoxy is less expensive than other flooring types, so you can afford it very easily. In case if you want to make it more durable, then you have to spend more than you generally spend on it.
3. Visual appearance
If you want to give a more visual and attractive look to your Commercial, residential, garages, and any other type of building space, this would be perfect because it has polished texture, and that is very easy to clean, and it is long-lasting for many years.
4. Standard safety and regulatory
Epoxy is highly secured from falling and slippery compared to other types of flooring, that's why it is highly usable in beverages and food distribution and processing facilities.
Cons of Epoxy
If you want to know everything about Epoxy, then you can't neglect the cons or disadvantages of Epoxy Flooring. There are mainly three disadvantages of Epoxy; these are listed below.
1. Smell
You can smell of Epoxy during its installation process, but once it has installed, the smell won't last longer. So don't worry about it.
2. Moisture
Undoubtedly, Epoxy has high moisture resistance, but it can cause a problem once it is trapped in moisture. So, before starting the Epoxy floor installation process, you have to make sure that it is far from wetness or moisture, keep its installation process dry from beginning to end.
3. Sensitive
The epoxy installation process is very sensitive; if you installed it in humidity, moisture, or in the wrong period of the year, it would become quite difficult for you to install. Always start its installation process in a low humidity period.
Therefore, by reading all information, you have an idea of what Epoxy is actually. The above-described pros, cons and the definition of Epoxy flooring is sufficient to tell you everything about it. Installation of Epoxy is a huge task because you will invest in it a large amount; also, the safety concern is must. So, it would be better for you if you got all the required information about it to make your decision more straightforward in terms of selecting Epoxy.
If you have decided to install Epoxy at your space, then hire Bomanite Artistic Concrete. It is the best Epoxy flooring installers in El Paso, TX, whether it is for your residential space or your commercial space.