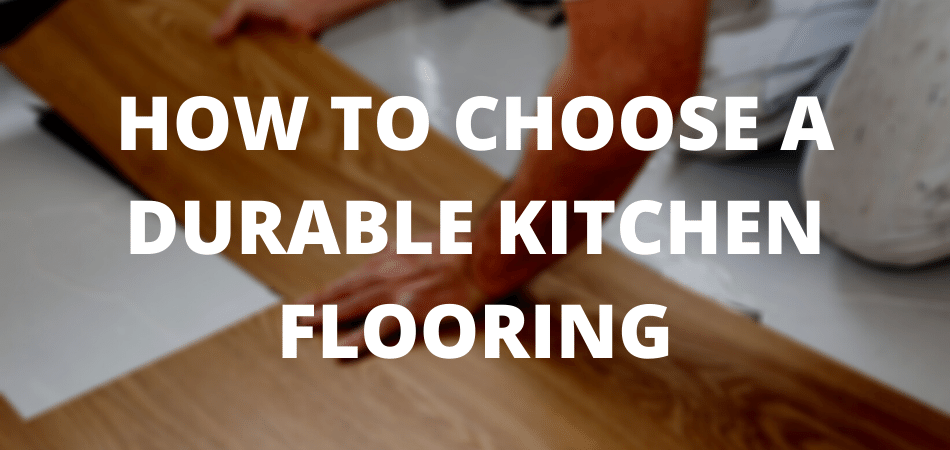 If you are planning to renovate or reconstruct your kitchen, then you need to decide and put appliances, cabinets, counter tops on the right place, and you always put these things on your top priority, but sometimes people don't give the kitchen floor as much priority as other parts of the kitchen. Along with these things, you also need to know, "How to choose a durable kitchen flooring?" to make your kitchen design more stylish and adorable.
When we are talking about kitchen flooring, there are various options available in the market. At that time, the most common question that people generally ask is, "what is the most durable kitchen floor and how to choose the right kitchen floor?" Well, it all depends on your lifestyle, sense, and budget.  
How to choose the best durable flooring for your kitchen
If you have decided to remodel your kitchen flooring, but you don't know from where you need to start choosing the best flooring for your kitchen. Don't need to be worried; in this topic, we are going to discuss the essential things that you should consider when you are choosing a kitchen flooring to remodel.
Traffic flow
Whenever you are planning to remodel their kitchen flooring, then you should choose durable flooring on the basis of the traffic. You must first check how much your kitchen is used in a day. Do you have to place heavy appliances on the floor like refrigerators? If yes, then you need to choose that kind of flooring that is able to bear all wear and tear. To be resistant to wear and tear because of high traffic, you need to choose Vinyl flooring. It is not just to take high traffic but also available in different textures and styles. But, if your kitchen area is less traffic area, in that case, Cork is the best option. It gives you comfy, cushion and also reduces the impact of noise.
Durability
The durability of your kitchen floor is the most important factor that we should consider and choose the right flooring based on the durability feature. The first thing that you should consider is; your kitchen flooring is prone to mess, heat, and spills; if you find your floor can't take it more, then replace its flooring as soon as possible.
If your kitchen area is going through water stains and heavy traffics, then you should choose refinished wood flooring

If you are generally facing problems with pans and pots dropping out, then you must go for ceramic tiles to prevent scratches and dents.

If your kitchen area is a nearby pool or garage area, then you should select that type of flooring that is not slippery and able to stand with wet and muddy boots.
Budget
Budget is the most critical factor whenever you are going to choose to floor for your kitchen. Budget is the factor that can influence the quality of your flooring. I would suggest you always be prepared before going to your kitchen flooring remodeling and don't go for that which you can't afford. If your budget is less and you want better quality and look of your flooring, you can go for plastic laminates; it gives you a similar look like wooden flooring. You can go for Vinyl or resilient flooring if you want to add more colors and styles in your flooring. It is not necessary to go for the cheapest option, if you have less budget then wait for some time, when you have enough money then invest in a good type of flooring.
Style and Color
Before investing in a kitchen floor remodeling, choose the colors and styles of your flooring carefully. First, you have to ask yourself what style do you actually want; contemporary country style or rustic style. After selecting the style, you need to make sure that it should complement the rest of the kitchen style. You need to confirm that the flooring color which you have chosen is good to go with the rest of the parts of your kitchen. If you don't want to go with colors, then you can choose a neutral backdrop or focal point texture or style for your kitchen. Choose carefully so that you won't be bored in a few months or a year.
Maintenance
Maintenance is the most critical factor in kitchen flooring that everyone wants to know. Before reaching the maintenance point, you always need to select the flooring according to your lifestyle. Always choose that kitchen flooring, which is easy to clean stains and scrubbing.
Generally, concrete flooring requires less maintenance.

On the other hand, the wooden flooring required maintenance in 5-6 years.  

If you choose limestone kitchen flooring, then it will be sealed on the installation time, and the required maintenance at least twice annually.

The tile flooring is required periodically to clean the stains.
Overall we can say that each different type of kitchen flooring required different maintenance and cleaning procedure, so before choosing any kitchen flooring, make sure that it would be easy to maintain.
Comfort
Comfort is the most crucial factor that we generally ignore, but you have to include this feature in your checklist. Before choosing any type of flooring, ask yourself if it will give you a comfortable kitchen environment. In your busy lifestyle, after finishing your work, you enter your kitchen, and many of us spend lots of hours cooking food in the kitchen. While working in the kitchen comfortableness is very important. In that case, choosing wooden flooring will help you reduce leg fatigue, and you will also feel resilient and soft. In addition you can also add a mat or rug to give comfort for your feet.
Adaptability for Durable Kitchen Flooring
The floor which you have to choose is included with the adaptability feature, which means it will allow you to easily advance updates in feature without affecting the current flooring. In that case, wooden flooring is the best option for you because it will easily match the colors of walls and decorative touches. You can also choose natural or neutral color designs flooring. You can add white and grey shades in your flooring; it will look very catchy, attractive, and easily adaptable. Always refuse to choose bold and boring shades of beige, taupe, and ivory.
Size and light
If you want your kitchen area to look bigger and brighten, then the flooring will play an effective role in this. If you choose lighter flooring for your kitchen, then it will give a large feel to your kitchen space. It will also lighten up the rest of the area of your house. So, you can add wooden and tile flooring to make your space larger. If in your kitchen area any natural sunlight source, then you can make your kitchen area more bright by adding lighter kitchen flooring. It will reflect the natural sunlight and make it brighter. You can also go with the alternatives of the dark and the light shades of the same color.
Therefore, these are the following points that you should consider whenever you are going to choose a durable kitchen flooring. Adding the right kitchen flooring remodel in your home increases 70 to 80 percent value of your house in terms of usability and durability.
Next time, whenever you are planning to remodel your kitchen floor, add these following points in your checklist, and finalize that kitchen flooring which you found more suitable for you. By implementing these points, you can save your money by minimizing the maintenance cost, and you will get long-lasting flooring in your kitchen.